Why don't you make your products renewed to the strategic ones?
Have your products been standing in a storm of price slashing? Isn't it difficult for you to secure the profits out of your products developed with much effort?
Today, it is difficult time to differentiate your products from others. We propose that you should add the 3D technology to your products and make them more value-added products for your customers. When you get ahead of others in differentiation, you will be on the road of success.
Differentiation examples
Projector
Personal computer
Mobile phone
Medical equipment
Pachinko play equipment
STB
TV
Head-mounted display
Walking equipment
Bicycle
Boat
Driving game
Blue-Ray
Signage equipment
USB
DVD
Simulator
Hard disk
Game equipment
Camera
Printer
Programs Installed into Devices
3D Board, LSI, and Basic Programs for Licensing
Based on auto 2D to 3D conversion program
Contents of the Basic Programs
Images from TV, DVD, and video are cut into a single frame to create two images, left and right for stereoscopic image.
And then, the left and right images are combined and delivered based on the form at used of a device.
Program Process Outline

Division of Roles for Development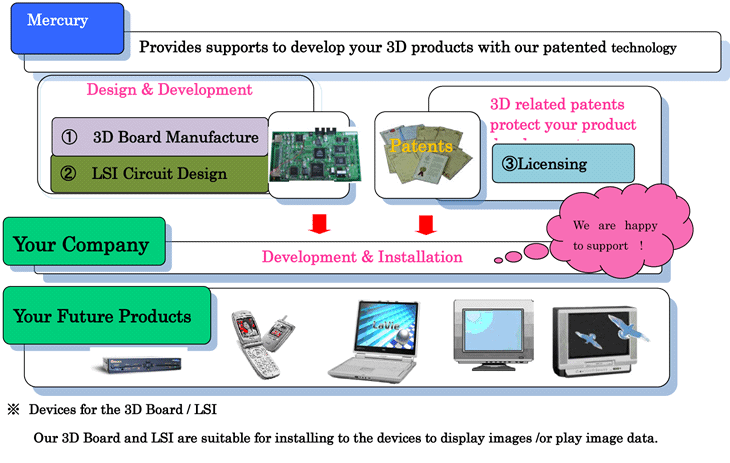 Features & 3D Logic Installation Position
Features
One of the features of the 3D Board/ LSI is a real-time image transfer.
Another feature is that they can be installed without requiring major changes of your current system since your current system does the final process of the images converted by the 3D Board / LSI and deliver to a monitor.
Adding a 2D/3D switching function enables you to enjoy both 2D and 3D.
Position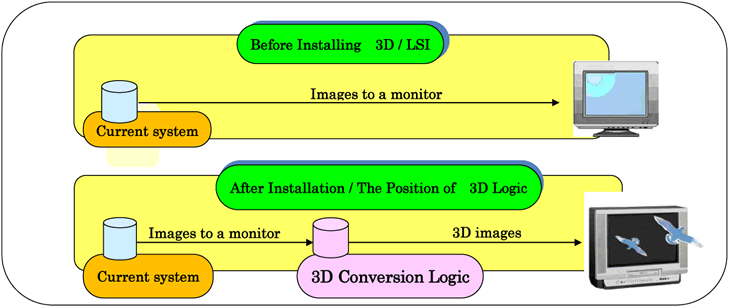 Patents
We firmly support your business. You can develop your business hand in hand with.
■ Core Patent
Auto 2D to 3D Covnersion & Its Program
Auto Object Recognition
Auto Z-value Calculation
Auto Missing Image Correction
Auto Creation of Left/Right Image Pairs
2D/3D Image Conversion Tool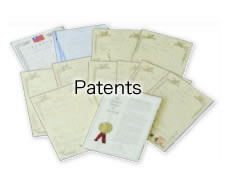 ■ Review of the International Research Institute
They review that all aspects of the patents we obtained are innovative, advanced, and practical in business and industry.
They certify that the patents are unique and not found in any references of international research reports.
Patents Registered:

Japan, USA, China, Taiwan, Canada, Hong Kong, Macao, Singapore, Australia, and Korea

Patents Pending:

EU, Norway, and Sweden
If you wish to develop the intellectual property business using our patents, please inform us of your plan